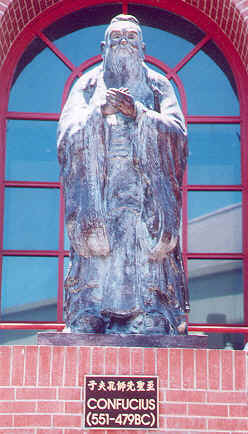 _________________________________________________________________________________________
2) Kun: Receptiveness (Responsiveness)/Earth
Hexagram:
C: The configuration of earth is receptive; superior people support others with enriched virtue.

L: Creativity and development are achieved in the faithfulness of the mare (earthly animal). The superior person has somewhere to go. Taking the lead, one goes astray; following, one finds the master. It is beneficial to find companionship in the southwest and lose companionship in the northeast. Stability in rectitude is good.

E: One of the four timeless hexagrams; pure yin represents receptivity, submission, humility, obedience, yielding, flexibility, stillness, essence, innate capacity.
_________________________________________________________________________________________
Lines:
1 Yin:
L: Walking on frost: hard ice arrives.

E: In the beginning of submission, if there is any deviation from care, external influences will creep in and multiply.
2 Yin:
L: Straightforward, correct, great: unfailing achievement without practice.

E: Flexible receptivity is balanced; the ordered mind is straightforward and careful. Correctness is naturally accomplishing great achievement.
3 Yin:
L: Concealing excellence, one can be correct: if one works in government, there is completion without fabrication.

E: Concealing one's refinements, one remains correct, not allowing external falsehood to damage internal reality.
4 Yin:
L: Closing the bag, there is no blame, no praise.

E: Remaining flexible by giving up; thoughts do not arise externally or internally. One submits to fate, not causing trouble or seeking good fortune.
5 Yin:
L: A yellow garment is very auspicious.

E: One's golden virtue, flexible receptivity open and balanced, makes people obey.
6 Yin:
L: Dragons battle in the field; the blood is dark yellow.

E: Self-aggrandizement making softness hard, being unable to obey others but wanting others to obey oneself. Without yet having won others, one has already harmed oneself.
Using Yin: All moving yin lines (all ritual numbers are sixes)
L: It is beneficial to always be correct.

E: The path of submission and receptivity, seeking fulfillment with emptiness, truth by openness, being by nonbeing, is delicate and must be carefully followed in order to remain consistently correct.