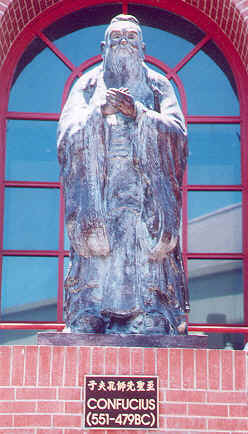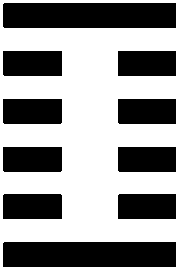 _________________________________________________________________________________________
27) Yi: Jaws/Nourishment
Hexagram:
C: There is thunder beneath the mountain; superior people are careful about what they say, and moderate in eating and drinking.

L: In nourishment, it is good to be correct. Observe nourishment, and seek fulfillment for the mouth by yourself.

E: Discernment of good, becoming empty to seek fulfillment.
_________________________________________________________________________________________
Lines:
1 Yang:
L: Abandoning your spiritual tortoise, you watch my moving jaw- this is unfortunate.

E: Being strong but acting incorrectly, seeking exterior nourishment rather than nourishing the interior, abandoning real fulfillment and accepting the false, is not being careful in the beginning.
2 Yin:
L: Perverting nourishment goes against the constant. Feeding on high ground- to go brings misfortune.

E: Presuming to have virtue when one does not, being empty yet considering oneself full, is the nourishment of the ignorant who act arbitrarily, not knowing how to seek truth.
3 Yin:
L: Going against nourishment, even with rectitude this is inauspicious. Don't act on this for ten years; there is no benefit.

E: Dwelling at the extreme of action, following one's desire, one is concerned only with the material and not the spiritual. Even if food and clothing are gained correctly, the path is inauspicious because one is unaware of spiritual cultivation. This is nourishment in folly and ignorance, ending up without true fulfillment.
4 Yin:
L: Reverse nourishment is auspicious; the tiger watches intently, about to give chase. No fault.

E: Borrowing others' understanding to clarify one's ignorance, and restraining pride during inquiry is auspicious. This is nourishment of the unfulfilled seeking true fulfillment, seeking below from above.
5 Yin:
L: Going against the constant. It is good to abide in rectitude. It will not do to cross great rivers.

E: Even though knowing only how to nourish the inner and not knowing how to nourish the outer, is a correct path, it is against the constant norm of nourishing true fulfillment. This is nourishment of emptiness, maintaining quietude in solitary tranquility.
6 Yang:
L: The source of nourishment; dangerous, but auspicious. It is beneficial to cross great rivers.

E: When firmness abides in flexibility, and action and stillness unifies, one is able to nourish the self and others. The spiritual embryo solidifies, and the great Tao completes. This is nourishment that includes emptiness and fullness, and completes the beginning and the end.