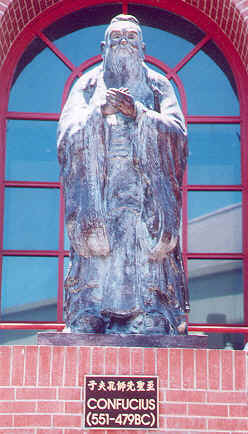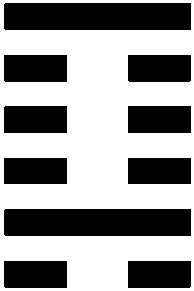 _________________________________________________________________________________________
4) Meng: Darkness
Hexagram:
C: Under a mountain a spring is produced, in darkness; superior people nurtures character with fruitful action.

L: Darkness is developmental when naïve innocence is not sought, but rather when naïve innocence seeks the developer. Correctness promotes success. (Seeking without the ego invites effortless success. The teacher only teaches when asked to teach. If the student demands, no further information is given.)

E: Starting yin-convergence, making the unruly yin submit, integrating with the world yet preventing mundanity from taking over. Negatively, it represents obscurity (naivete); positively, it represents innocence.
_________________________________________________________________________________________
Lines:
1 Yin:
L: Opening up darkness, it is advantageous to use punishments. If restrictions are removed, it will lead to regret.

E: It is beneficial to conquer and strictly regulate negative influences when the human mentality first arises.
2 Yang:
L: Taking in darkness is good, taking a wife is good; the heir ably takes over the family affairs.

E: Being firm yet capable of flexibility, using yin (naivete) to nurture yang (innocence) in darkness.
3 Yin:
L: Don't take this woman in marriage; if she sees a moneyed man, she'll lose herself. Nowhere beneficial.

E: When the softness of yin is not balanced or correctly oriented, one indulges in sensual pleasures and is greedy for material possessions. Lost in the self before winning others is darkness increasing darkness.
4 Yin:
L: Stuck in darkness, there is regret.

E: Being ignorant and foolish, keeping company with petty people, is being unaware that one is in the dark. Unconsciousness naivete brings misfortune.
5 Yin:
L: Innocence is auspicious.

E: It is auspicious to know where to stop, being incapable so following the capable. Unconscious obedience to divine law is the innocent mind aware of its naivete.
6 Yang:
L: Attacking darkness, what is not helpful is harmful, what is helpful prevents enmity.

E: Firmness of obedience in the abyss of darkness is the ability to control anger, desire, and repel external influences. This is darkness ultimately becoming light.