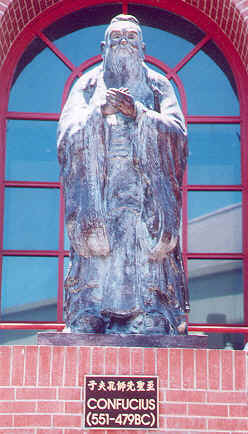 _________________________________________________________________________________________
44) Gou: Meeting
Hexagram:
C: There is wind under heaven, meeting; rulers announce their directives to the four quarters.

L: Meeting, the woman is strong. Don't get married.

E: Warding off negative influences, preserving the positive.
_________________________________________________________________________________________
Lines:
1 Yin:
L: A metal break is applied. It is good to be correct. If you go anywhere, you will see misfortune. An emaciated pig leaps in earnest.

E: The first arising of mundane energy is subtle yet can do great harm. Therefore, it is beneficial to preserve correctness to prevent trouble.
2 Yang:
L: When the fish is in the bag, there's no fault. It is not advantageous to the visitor.

E: When firmness is applied with flexibility, one's celestial mind can ward off the mundane mind early on. This is preventing the dangers of mundanity.
3 Yang:
L: No flesh on the buttocks, having trouble walking. If one is diligent in danger, there is no great fault.

E: It is difficult to subdue mundane damage once it has unsettled inner independence. Only if one can remain correct, diligently working by day and carefully resting by night, one can avoid damage to the celestial mind and master danger of the mundane mind.
4 Yang:
L: No fish in the bag causes trouble.

E: Not knowing how to prevent (not indulge) mundane negativity, one suffers damage of obstruction.
5 Yang:
L: Wrapping a melon in a river willow. Hiding embellishments, being detached, one realizes the celestial self.

E: Through correctly balanced strength, one can control yin (human mentality) with yang (the mind of Tao). By expelling intellectualism and concealing illumination, one can repel mundane energy by returning to heaven with the application of one's innate human power: keeping an empty human mentality motivated by the complete mind of Tao (celestial mentality). This is preventing negativity by practicing positivity and suffering no damage.
6 Yang:
L: Meeting the horn is humiliating. No blame.

E: Losing the golden elixir is one's own fault by tardiness in preventing mundanity.