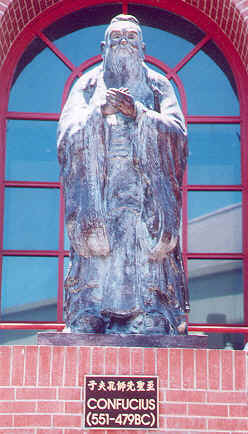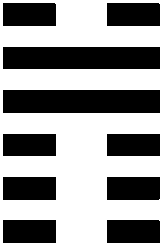 _________________________________________________________________________________________
45) Zui: Gathering
Hexagram:
C: Moisture rises onto the earth, gathering; superior people prepare weapons to guard against the unexpected.

L: Gathering is developmental. The king comes to have a shrine. It is beneficial to see a great person; this is developmental. It is beneficial to be correct. It is good to make a great sacrifice. It is beneficial to go somewhere.

E: Unifying vitality, energy, and spirit.
_________________________________________________________________________________________
Lines:
1 Yin:
L: Having sincerity that is not conclusive, there is disorder and mobbing. If you cry, in a moment itíll turn into laughter; donít grieve. To go is blameless.

E: When negative, weak, indecisive, and confused, one should gather guidance to correct error.
2 Yin:
L: Drawing in brings good fortune; no blame. If one is sincere, it is beneficial to perform the spring ceremony.

E: This is gathering in the sense of preserving correctness even when the whole body is mundane and weak.
3 Yin:
L: Gathering, lamenting; no benefit. If one goes, there is no fault, but a little shame.

E: After suffering damage, when the weak borrow strength from the wise, there is little shame.
4 Yang:
L: Great fortune, no fault.

E: When strong yet flexible, one is able to solidify the restored golden elixir.
5 Yang:
L: Gathering, there is a state without fault. Not taking oneself seriously, if one is basically always correct, regret will disappear.

E: There is no fault in keeping the stability of life in the true state. Without cultivation or clarification, the five elements of the residual emotions of acquired conditioning are unified into one true energy, effortlessly. This is gathering in the sense of incubating the spiritual embryo.
6 Yin:
L: Sighing and weeping. No blame.

E: There is no blame on others for gathering that is careless in the beginning, and ends in regret.