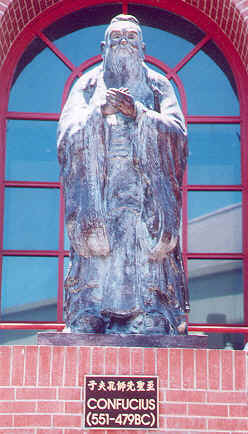 _________________________________________________________________________________________
51) Zhen: Thunder
Hexagram:
C: Traveling thunder reverberates; superior people cautiously practice introspection.

L: Thunder is developmental. When thunder comes, there is alarm, then laughter. Thunder startles for a hundred miles, but one does not lose spoon and wine.

E: Practicing introspection in action.
_________________________________________________________________________________________
Lines:
1 Yang:
L: When thunder comes, alarm; afterward, laughter. Auspicious.

E: Using caution to distinguish between right and wrong in the beginning and being happy in the end, is the most beneficial pattern for action. This is action with the correct application of strength and flexibility.
2 Yin:
L: Thunder comes: dangerous thoughts. Losing valuables, you climb nine hills: Donít chase it- youíll lose it in seven days.

E: When weak, it is beneficial to not let arbitrary imagination influence dangerous action. This is the caution of inner movement when weak.
3 Yin:
L: Frightened by thunder; wary action is free from trouble.

E: This is being cautious of oneís own inability and using will power to seek the aid of others.
4 Yang:
L: Thunder gets bogged down.

E: This is the progress of strong action obstructed by a lack of caution with negative influence.
5 Yin:
L: Actively mulling over dangerous plans. No loss; there is concern.

E: When one is yielding without firmness, it is correct to be careful about the outside world.
6 Yin:
L: Movement uneasy, gaze unsteady- an expedition will bring misfortune. The action is not in oneself but in the neighbors; there is no blame. Association involves criticism.

E: Having fear inside and outside, one is too weak to relate.