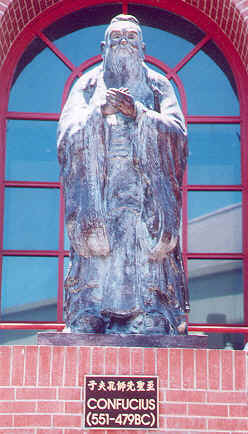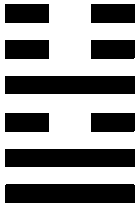 _________________________________________________________________________________________
54) Guimei: Making a Young Girl Marry
Hexagram:
C: There is thunder above a lake, making a young girl marry; superior people persist to the end and know what is wrong.

L: Making a young girl marry: to go on will lead to misfortune; no profit is gained (seeking essence with emotion).

E: Seeing the real within the false.
_________________________________________________________________________________________
Lines:
1 Yang:
L: Marrying off the young girl as a junior wife. The lame can walk. It is good to go on.

E: Remaining strong (humble) in a low position, represents the ability to maintain correctness at the wrong time.
2 Yang:
L: The one-eyed can see. The chastity of a hermit is beneficial here.

E: Being flexibly strong, outwardly dark and inwardly bright, living in seclusion, considering the essence of life most important, one will have true pleasure rather than artificial pleasure. This is preserving correctness by not getting into trouble.
3 Yin:
L: Making a young girl marry with expectation: She turns back and marries as a junior wife.

E: When one is weak, degrading the real internal self by striving for artificial externals, one can still turn back from error to adopt correct orientation.
4 Yang:
L: When it is the wrong time for the girl to marry, she delays marriage until the proper time.

E: When strong but yielding, one returns to correctness by refining the human mentality and restoring the mind of Tao while awaiting the proper time for action.
5 Yin:
L: The emperor marries off his younger sister; the attire of the empress is not as good as the attire of the young wife. The moon is nearly full. Good fortune.

E: One who is incorrect can end up correct by humbly seeking help from the wise.
6 Yin:
L: The woman receives a chest but there is nothing in it; the man sacrifices a goat but there is no blood. No benefit is gained.

E: Ignorant action injures the essence of life, and one does not know how to return to correctness.