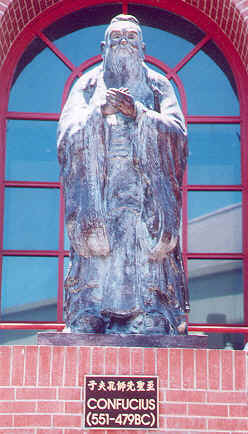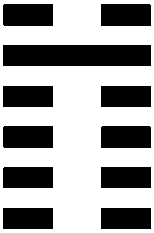 _________________________________________________________________________________________
8) Bi: Accord
Hexagram:
C: There is water over the earth in accord; thus the ancient kings established myriad realms and associated with their representatives.

L: Accord is auspicious. Investigating and ascertaining, if the basis is always right, there is no error: Then the uneasy will come (conquering feelings and essence); but the delay is unfortunate.

E: Learning through association; obedience in danger, rectification of imbalance.
_________________________________________________________________________________________
Lines:
1 Yin:
L: When there is truthfulness, accord is impeccable. When there is truthfulness filling a plain vessel, ultimately there will come to be other blessings.

E: When one can empty the mind to fill the belly, sincerity and truthfulness are in accord, bringing no error.
2 Yin:
L: Accord coming from within is correct and bodes well.

E: Flexible receptivity is central when inward accord precedes outward accord. Not falling into oblivion when desiring to receive is correct internal accord.
3 Yin:
L: Accord with the wrong people.

E: When one is ignorant with ignorant people, outer accord is incorrect.
4 Yin:
L: Accord with one outside is right and bodes well.

E: Flexibility in accord with the firm, wanting to be like the wise, is correct external accord.
5 Yang:
L: Manifesting accord. The king uses three chasers and loses the game ahead. The citizens are civilized without being admonished. Auspicious.

E: Firm strength in proper balance, yang is replete and yin spontaneously converts. Taking in the receptive and letting go of the rebellious. When one reaches a point in practice when the real and the false get transmuted, and opposition and submission both return to the basis, then the heart is profoundly calm, unconfused, ultimately good without evil. Inside is one with the outside.
6 Yin:
L: Accord without a leader bodes ill.

E: Ignorantly relying on the self is acting as one pleases. This is accord without leadership, or being uncooperative, which will accomplish nothing.